The Super Bowl is right around the corner.  You have been faithful all year to your diet.  Your friends are coming over to watch the big game.  How can you balance having awesome snacks and not breaking your diet? Here are some Healthy Super Bowl Snacks that will be a hit with your friends and family.
Baked Buffalo Chicken Skewers
What you will need:
Chicken
Skewers
Your favorite Buffalo Sauce
Bleu Cheese Dressing (Optional)
Salt and Pepper to taste
Directions:  Keep it simple stupid, cut the chicken into strips and marinade in Buffalo Sauce for 15-20 minutes and then skewer the meat.  (HINT: Soak your skewers in water for 30 minutes to prevent the wood from burning.) .Season with Salt, Pepper, and Garlic.  Throw it into the oven to bake at 375 F for 30 minutes.  Flip the skewers often, giving them a new coat of buffalo sauce each time.  Dip in Bleu Cheese Dressing.
_________________________________________________________________________
Buffalo Cauliflower Poppers
For those weird Vegans in your life.
"This is a great substitution for buffalo wings! Can be made gluten-free, vegan, or vegetarian. Make sure to coat your cookie sheet well with oil or they will stick.  Dip this in ranch or blue cheese for even more added flavor, but it doesn't need it."
Ingredients
olive oil cooking spray
3/4 cup gluten-free baking flour (such as Premium Gold(R) Flax and Ancient Grains All-Purpose Flour)
1 cup water
1/2 teaspoon garlic powder, or to taste
salt and ground black pepper to taste
2 heads cauliflower, cut into bite-size pieces
2 tablespoons butter
1/2 cup hot pepper sauce (such as Frank's RedHot(R))
1 teaspoon honey
Directions
Preheat oven to 450 degrees F (230 degrees C). Lightly grease a baking sheet with cooking spray.
Mix flour, water, garlic powder, salt, and pepper together in a bowl using a whisk until batter is smooth and somewhat runny. Add cauliflower to batter and mix until cauliflower is coated; spread onto the baking sheet.
Bake in the preheated oven until lightly browned, 20 to 25 minutes.
Melt butter in a saucepan over medium heat. Remove saucepan from heat and stir hot pepper sauce and honey into butter until smooth. Brush hot sauce mixture over each cauliflower piece, repeating brushing until all the hot sauce mixture is used.
Bake in the oven until cauliflower is browned, about 10 minutes. Remove baking sheet from oven and allow the cauliflower to cool 10 to 15 minutes.
_________________________________________________________________________
PF CHANG'S CHICKEN LETTUCE WRAPS
A copycat recipe that you can easily make in just 20 minutes. And it tastes a million times better too!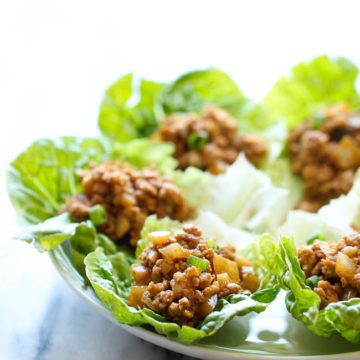 INGREDIENTS:
1 tablespoon olive oil
1 pound ground chicken
2 cloves garlic, minced
1 onion, diced
1/4 cup hoisin sauce
2 tablespoons soy sauce
1 tablespoon rice wine vinegar
1 tablespoon freshly grated ginger
1 tablespoon Sriracha, optional
1 (8-ounce) can whole water chestnuts, drained and diced
2 green onions, thinly sliced
Kosher salt and freshly ground black pepper, to taste
1 head butter lettuce
DIRECTIONS:
Heat olive oil in a saucepan over medium high heat. Add ground chicken and cook until browned, about 3-5 minutes, making sure to crumble the chicken as it cooks; drain excess fat.
Stir in garlic, onion, hoisin sauce, soy sauce, rice wine vinegar, ginger and Sriracha until onions have become translucent, about 1-2 minutes.
Stir in chestnuts and green onions until tender, about 1-2 minutes; season with salt and pepper, to taste.
To serve, spoon several tablespoons of the chicken mixture into the center of a lettuce leaf, taco-style.
_________________________________________________________________________
Reduced Guilt Spinach & Kale Greek Yogurt Dip
Ingredients
1 (17-ounce) container of 2% Greek yogurt (or about 2 cups of your favorite)
3 tablespoons mayonnaise
2 tablespoons honey
1 cup finely chopped kale
1 cup finely chopped spinach
3 thin green onions, finely chopped
1/3 cup finely chopped red pepper
1/4 cup finely chopped carrot
2 garlic cloves, finely minced or pressed
1/2 teaspoon salt
1/4 teaspoon pepper
1/4 teaspoon smoked paprika
if desired, chopped water chestnuts and chopped marinated artichoke hearts
Directions
Combine all ingredients in a bowl and mix well to combine. The key is to chop everything as finely as possible! This dip is extra flavorful after it sits for a few hours (refrigerated of course). Taste and season more if desired. Serve with chips, crackers or vegetables.
_________________________________________________________________________
Bacon Wrapped Jalapeños
This one could go either way on the healthy-o-meter, but has a lot less calories than other bacon wrapped jalapeños I have seen.
What you will need:
1 Pack of Bacon
6 Whole Jalapeños (small)
1 8oz block of cream cheese
Directions:  Slice the jalapeños in half (hot dog way) and de-seed.  Cut up the Cream Cheese into strips long enough to sit in the jalapeño. (The actual size varies, but just remember to put a healthy serving of cheese in it.  Wrap the jalapeño and cheese with a slice of Bacon.  Place them on a cookie sheet and preheat your oven to 400 degrees.  Bake until your bacon is how you want it (about 20 minutes) and Enjoy!